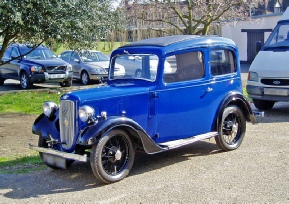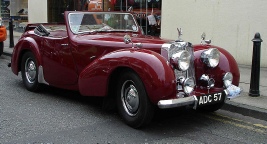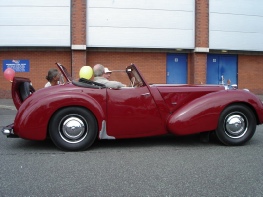 This was a development of the Chummy model. It had a more rounded enclosed body but had basically the same mechanicals with some improvements to brakes etc. My aquaintance was because the secretary at the place I then worked had a 1936 model. This was when I had the Morris 8 and then the MG J2. We had many a race along the back roads of Leicestershire. Neither car was capable of more than 50mph but it seemed much faster.
This was the first in the long line of desirable Triumph sports cars ending with the TR7. It was by no means a sports car, rather a touring car. It had a bench seat, column gear change and even a dickey seat for those who couldn't fit inside.
It belonged to the Austin owning secretary's boyfriend and so i had a few rides on it. Bench seats are not conducive to spirited cornering, especially when you do not have the steering wheel to hang on to.